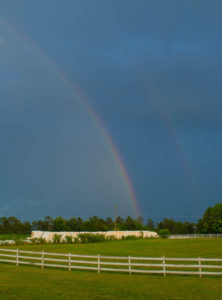 This week I am thinking about Acceptance and Commitment Therapy and being present.
My favorite way of not being present is reading.  Of course, I have been incredibly educated, enriched and inspired by what I have read.  It's hard for me to imagine who I would have become without access to books.  Nonetheless, it's clear that sometimes I am simply "not there" because I am absorbed elsewhere.  My husband likes to watch baseball .  I can enjoy an interesting game, but when I am really tired I will "tune out" everything and everyone and just read (lying down on the rug in front of the fireplace in winter).  I know that my husband sometimes "misses" me when I do this, and I am trying to be more aware.  I see the problem as a kind of old-fashioned version of screen addiction,  based on wanting to escape into the story  rather than being "hooked" by social media or video games.  I know this problem has existed since I learned to read.
For July 4th, I visited my daughter who now lives on a farm.  It was the first time I ever stayed at the farm.  It was also the first time I essentially didn't read for many, many years (since I was 7 or 8?).
Part of the reason was that I was so busy with my family.   But the main reason was that I loved looking at the view.
My daughter's house is tucked into a hill and looks down over a dairy farm in the valley.  There is another house at the end of the driveway, but apart from that you can't see anything else but nature/farm  from the front porch.  I could sit there all day.
The cows eat grass as well as hay.    In the morning after they've been milked, they head down the path towards the fields where they graze.  In the late afternoon, they come back in again to be milked, and then go back to graze again.  I imagine that they stay out in the field at night and return in the early morning, or perhaps they come back to the barn after it gets dark. – I didn't get up early enough to learn about that.  The rhythm soothed me.
I loved sitting on the porch and just looking.  At night there were fireflies, which I had remembered from when I lived in the country in Massachusetts, but hadn't seen in years.  Weather systems could be seen approaching from across the valley. Sometimes I could see where it was raining and watched as the rain came towards us.
Just watching is a form of meditation.  There is so much to see.  I didn't want to go in and read, or bring my book or Kindle outside.  It felt right just being there, not thinking about anything.    I felt in tune with the changes as the day went by, because I sat on the porch at different times.
Now I'm back I'm trying to remember this.  When I eat breakfast in the garden I don't read, I just eat and watch the birds.  I can read when the snow is on the ground!  Chickadees and woodpeckers and purple wrens and cardinals are not so easy to watch then.  If I don't look now I will miss my plants and flowers and the sound of the fountain in the pond.   Habit alone makes it appear necessary to read at breakfast.
Happy looking this summer.